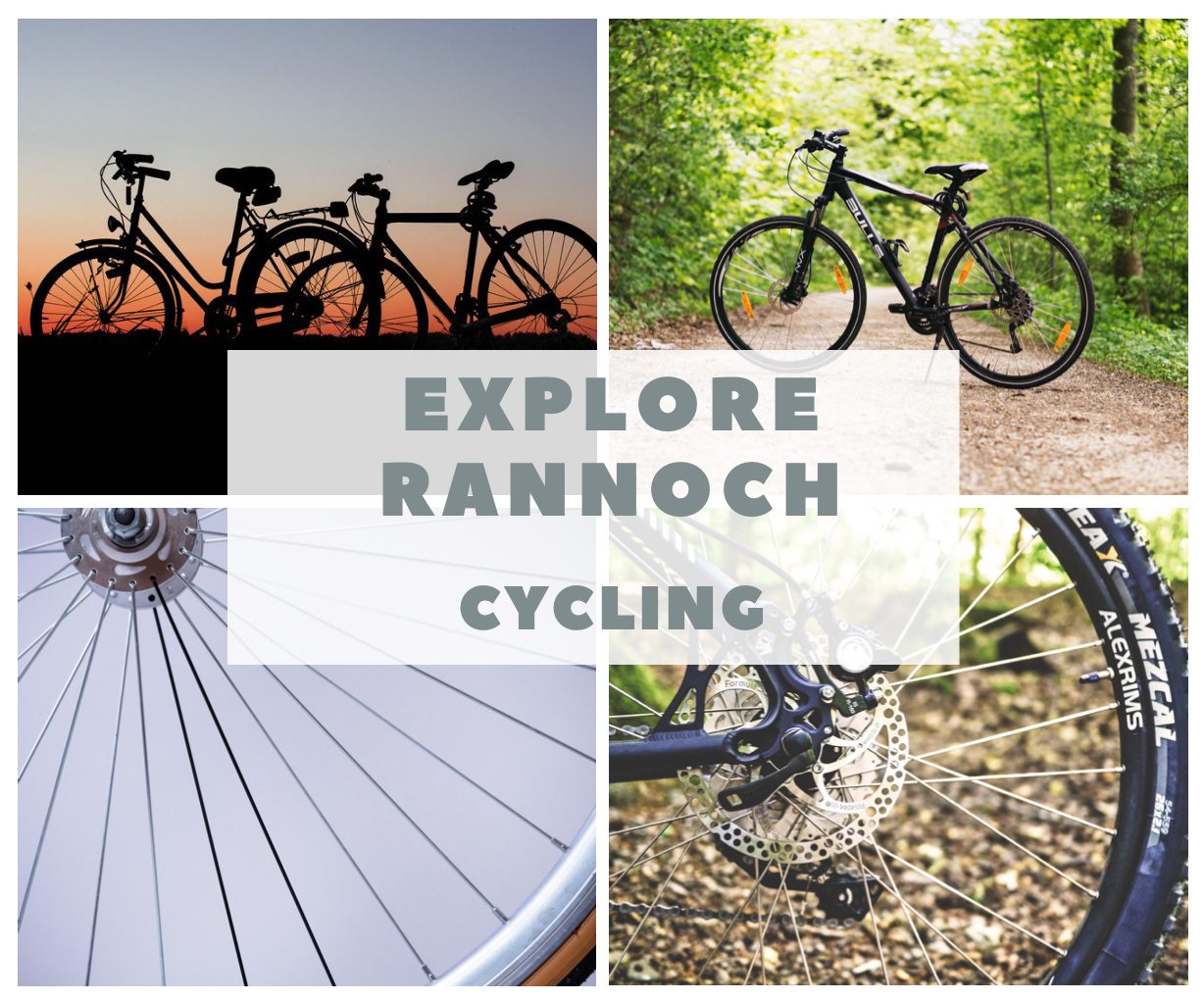 Scotland's diverse landscape provides some of the best locations for cycling.  This year, The Union Cycliste Internationale (UCI), Cycling World Championships took place in various locations around Scotland including Perth and Kinross.
Whether you prefer an e-bike or traditional pedal power, cycling is a fantastic mode of transport to explore Loch Rannoch and the surrounding areas. The quiet, tree lined roads around the Loch Rannoch gently undulate making it a pleasant and achievable cycle ride for the vast majority of riders. Dedicated areas on the south side such as the black woods of Carie provide a number of off road tracks for the more adventurous, on the north side a forestry track on the Camusericht Estate leads you to the bothy at the foot of Ben Alder. A ride out towards the west, past Rannoch Station and Loch Laidon provides on a clear day, uninterrupted views over towards Glencoe.
By circumnavigating  Loch Rannoch you complete a route of 22 miles although a further additional six miles to Rannoch Station can be added as a 'pan handle'.  This extra mileage affords the opportunity to visit the wonderful Rannoch Station Tearooms for refreshments knowing that the six miles now required to return back to the Loch is thankfully all down hill !
For those who enjoy a more challenging terrain on a mountain bike why not incorporate a train ride with your bike on Scotrail's West Highland Line From Rannoch Station.  Scotrail do not charge extra for your bike but you are required to reserve a designated cycle space prior to commencing your journey.  Take a short train journey north to the highest railway station in the United Kingdom, Corrour Station or perhaps continues onto Spean Bridge and cycle back to Loch Rannoch incorporating the Road to the Isles.
The annual Etape Caledonian cycling event uses the roads of Loch Rannoch and Tummel for this closed road event which attracts up to 5,000 cyclists.  The next event will take place on Sunday 12th May 2024 so there's plenty of time to get some practice around the local area.  The marshalled routes of either 40 or 85 miles both start and concludes in Pitlochry taking in some of the most breath taking scenery the Scottish Highlands has to offer. Only riders on the more difficult, longer journey pass Granary Cottage on their way to crossing the Bridge of Gaur for their return journey round the south side of Loch Rannoch. The gentler south road helps to prepare the riders for their next challenge in the shape of Schiehallion and a cheeky little 736 ft elevation prior to finishing back in Pitlochry. 
Granary Cottage is ideally positioned for cyclists to prepare and familiarise themselves with the Etape route or challenge themselves on several gravel routes.  Granary Cottage can also provide accommodation for cyclists on the Badger Divide. 
These are just a few ideas of routes to explore whilst staying at Granary Cottage.  The two wheeled adventures do not stop there and are limited only to your imagination.  If you're a keen cyclist then Loch Rannoch provides a fantastic highlands backdrop for a holiday.